Improving America's Pastime: Baseball | Suggestion #13 – Equal Outfield Fences
2013-February-28
---
---
Suggestion #13: Make Outfield Fences Equal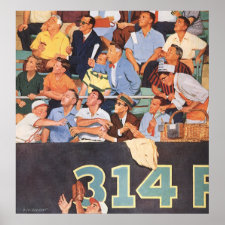 ---
This suggestion is a no-brainer, albeit controversial: make the distances and heights of the outfield fences the same in all ballparks.
Does it make sense to allow the distance from home plate to the outfield fence to vary from one Major League ballpark to another, varying anywhere from 302′ to 355′ along the foul line and 390′ to 435′ through center field?
Why don't the official rules of baseball specify the height, shape, or composition of the outfield fence or wall, nor the distance from home plate, when they seem to regulate everything else?
Why?
Red Sox fans will no doubt defend Fenway's Green Monster (a.k.a., The Wall), even though it is the highest outfield fence or wall of any Major League baseball field and notorious for robbing home runs from perfectly good line drives that would clear other MLB outfield fences. This outfield wall is also closer to home plate than other MLB outfield fences or walls, allowing shallow high balls to become undeserved home runs by clearing it.
All that said, I love and appreciate old ballparks and their history, but couldn't we take a few inches off the top and push home plate back a bit to have the-wall-formerly-known-as-The-Green-Monster comply with some agreed upon height and distance requirements?
Aren't professional football fields and basketball courts created equally? Can you imagine the National Football League allowing teams to have field goal posts of various heights and the fields of varying lengths? Or the NBA allowing teams to decide what height their home-court baskets can be?

How to Play Baseball by Goofy (Disney)
---
In baseball, most everything else is strictly controlled and defined, including other dimensions and distances on the field:
from the mound to home plate it is 60-feet and 6-inches;
from base to base it is 90-feet precisely;
from home plate to backstop it is 60-feet;
the pitcher's mound is 18-feet in diameter and 10-inches at its peak;
the pitcher's rubber is 24-inches by 6-inches;
home plate is a pentagon whose sides have specific measurements that result in 17-inches from base to tip;
the first, second and third bases are 15-inches square;
the batter's box is 4-feet by 6-feet and centered 6-inches from home plate;
the catcher's box behind home plate measures 8-feet by 43-inches;
and so on.
However, for some reason, the height and distance of the outfield fence is allowed to vary from ballpark to ballpark, even though something as important as home runs are clearly impacted by those changes in height and distance.
Consistency in the distance to the outfield fence and the height of that fence should be the same across ballparks, if not, what is the point of comparing home run stats?
But what do I know?


---
---
NOTE: This was the thirteenth of a 30-part series of posts offering suggestions (sometimes tongue-in-cheek) on how I would improve the game of baseball. This series is based on my original (very long) post: Baseball: How I (A Girl) Would Improve America's Pastime, it provides the context for this series of posts. I hope you enjoy the series and offer your own suggestions! All the best, -Martie
---
---
Martie Hevia © 2011-2013 | All Rights Reserved
---
---
---
---